Covid19 Antigen Rapid Test with Nasal Swab
The advantages of the Covid19 rapid antigen test with nasal swab
BfArM approval for self-testing (self-test)
Highest reliability due to anterior nasal swab
Tested quality by Paul-Ehrlich-Institut and BfArM
Easy handling without additional analysis system
Sample material: simple swab from anterior nose
How does the Corona test with nasal swab work?
Make sure that the test device, sample and extraction buffer are at room temperature (10 – 30°C) before testing. Use one pipetting container (supplied) for each sample to be tested and mark each container accordingly. Proceed as follows:
1. remove the sample from the subject.
2. Pull off the membrane of the pipette container.
3. Hold the sample swab in the container and rotate/shake the swab 10 times while pressing the swab head against the inside of the tube to mix the collected sample with the buffer solution.
4. Remove the swab while pressing the swab head against the inside of the pipette container to remove as much liquid as possible from the swab. Then throw the swab away. 5.
5. close the pipetting container with the pipetting attachment and mix it by shaking it gently. The extraction sample must be tested immediately.
6. remove the test cassette from the sealed foil pouch by tearing it open at the notch. Add 3- 4 drops (approx. 100μl) of sample from the pipette container to the test area by turning the container upside down and squeezing it as shown in the illustration.
7. Read the test results after 15 minutes. Do not read any test results later than after 30 minutes.
What is the result of the Corona test?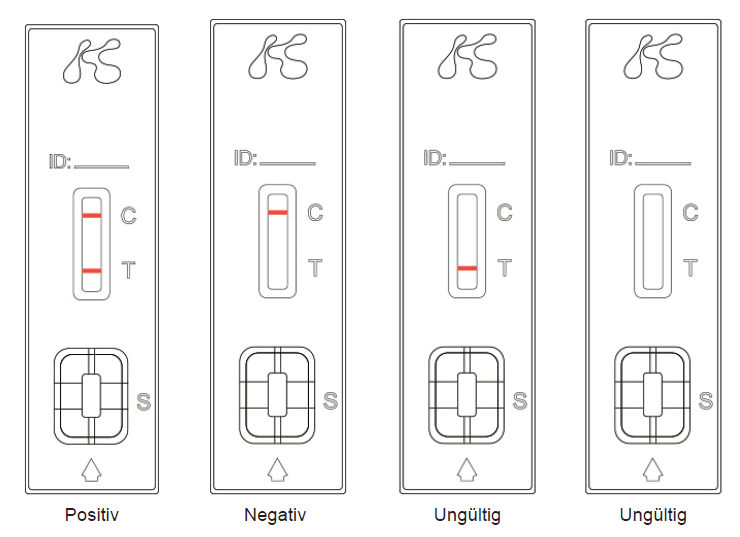 The result appears on the test strip: Two dashes indicate a positive test result, one dash means that the test result is negative. The test result is invalid if no dash is visible.
The result is positive
If the result is positive and the control line in the test kit as well as the test line clearly indicates, you should contact the nearest medical facility as recommended by the local authorities. The test result may be double-checked and the authority or facility will explain what the next steps are.
The result is negative
If the test kit only clearly shows the control line, this may mean that you are negative or that the viral load is too low to be detected. If you still experience symptoms, such as
Headache,
fever,
migraine,
loss of sense of smell or taste
sense of taste, etc.,
then please consult your family doctor or the nearest health facility according to the recommendations of the local authorities. If you are not sure, then repeat the test.
Order our rapid test right now